NEW !!! …. LAB
8 hours bootcamp in 2 days at Kurhaus venue
Expect personal attention, close contact with the instructor, being corrected and spoken to directly.
While you learn the moves, you will also learn the general principles and brush up on your leading.
This workshop will teach you to dance, understand the music and is a blast. You will meet new friends and learn something that you will never regret.
No partner needed.
Ever thought that you can learn tango in one weekend? And in addition, that you build up enough confidence, to really enjoy milongas?
We offer a totally new approach. Learn quickly and with confidence. Tango Bootcamp is designed by dancers for dancers. The masters themselves experienced the pleasures and pains in the learning proces. Difficult parts will be acknowledged but in the light of the bootcamp philosophy will be as much as possible tackled. The aim is to dance confidently and joyfully. The aim is also to gain self-assurance in milonga's.
What do we offer?
In a happy and fun environment we want you to meet with other tango dancers from all over the world. To be at ease and comfortable with fellow interested attendees. Lessons are given by a real Argentinean maestro.
– Lots of fun, in a relaxt atmosphere, learning basics and more. A combination of fun and learning.
– Refreshen your skills. If you had tango classes long ago, quitted the tango world and now want to pick it up again and join the community, you are most welcome.
– Dancers who want to go through the transition proces from beginner to intermediate.
– Build more confidence in the overwhelming world of Argentine Tango, a guide to what is going on, what stands for what?
– Make new memories that will last a life time.
Learn to dance ALL your tango basic/intermediate+ in only eight (8) hours. An accelerated program.
During the day you will practice with the other students and dance salon-wise in a separate room. This is only for and with the bootcamp-students, as to become in a safely and laid back way familiar with this typical dance party. So first gain confidence in a closed salon. Later that evening you are invited to the Congress where you will be able to dance night away as you have learned it.
Guide Syllabus
The 2 day weekend will contain the following elements:
– Walking and Tango Music (salida + musica)
– Tango Embrace (abrazo)
– Tango Balance + Weight Transfer (balanceas y cambios de peso)
– Basic 8 Step (basico)
– Forward + Backward Steps +Pivots (ocho para atras + ocho defrente)
– Leg displacements and interruptions (sacadas)
– Leg sweeps + throws (boleos)
– Stops and Drags (paradas + arrastres)
– Sandwich steps (sanguchitos)
– Turns + half turns (giros + media giros)
– Leg hooks (ganchos)
– Changes of direction + bounce steps
– Connection, improvisation, embellishment
– Putting it together
– Milonga dancing
– Musicality + phrasing
– Tango Music history
Program
You can choose one or two days or the complete program.
Couples only! [If you don't have a dance partner, you can contact us, and we do our best to find you one.]
Prices
Saturday, the 23th of February, Mini-bootcamp 4 hrs 100 €
Sunday, the 24th of February, Mini-bootcamp 4 hrs 100 €
Saturday and Sunday Mini-Bootcamp 8 hrs 175 €
How to apply?
Click here or send us an email at info@milongalounge.nl
Join us on Facebook
Also, make sure you join our Facebook event page and ask more about it.
Prices
Saturday Mini Bootcamp 100€
Sunday Mini Bootcamps 100€
Saturday and Sunday Bootcamp 175€
*Back to Program and Schedule
*(Reservation) Workshops
---
About Mariano
Born in Buenos Aires, Mariano Galeano is an Argentinean tango dancer, a choreographer and a teacher. He began his career at age 14 when he discovered the  "milonga universe…" Later on, he expanded his horizons with several disciplines such as modern and contemporary dancing, contact improvisation, classical ballet, partner techniques, fly low, drama, rock and roll, folklore, among others. Over the years he developed a very personal, versatile and unique style which all types of audiences can enjoy. You may see him dancing Salon Tango in an elegant sensual yet accurate way, and then Stage Tango, dancing modern, breathtaking tango show, with incredible speed, technique, energy, filled with contrasts, delivering fantastic performances … It is worth mentioning some of his features as a tango teacher: his personalized, dynamic, patient, simple and graceful way of teaching enables learners of all ages and levels to understand,  absorb and expand their knowledge of tango.
Performer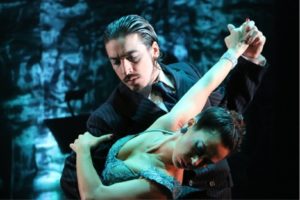 Mariano Galeano has delighted audiences all over his country on stages such as The Luna Park Stadium, and The National Tango Summit meeting in the UN to name a few.
He also performed on national and private channels on television, and in the most remarkable theaters in Buenos Aires such as Teatro Gral San Martín, Nacional Cervantes, Metropolitan 1, Astor Piazzola Auditorium and in famous tanguerías (tango houses) such as Café Tortoni, El Club del Vino, Esq. Osvaldo Pugliese, Casa Anibal Troilo, Palais de Glace, Esquina Homero Manzi, Tango Palace and La Rural, Che Tango and many others.
Over the course of his remarkable career, he has  danced with several well-known orchestras, among them Color Tango, Los Reyes del Tango, Sans Souci, El arranque, Los Cosos de al Lao, Sexteto Cayengue, Sexteto Veritango de Alfredo Marccuchi, La orq. Típica Férnandez Fierro, Setexto Milonguero, Los solistas de D'arienzo.
With the company Otango, he traveled and performed in many top stages in Europe for 12 years.
He has also been performing regularly for the past 6 years at the  Royal Caribbean "Celebrity Infinity" and "Crystal"cruise ships.
Producer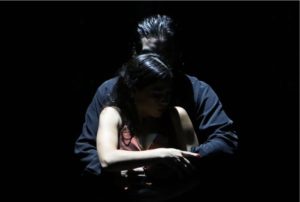 Mariano started his own Tango Show company, Tangauchos, as the main director, with now, more than 10 years of existence.
As a  producer, director and choreographer of shows in Argentina and in Europe, his most important work follows below:
Tango… Sensual e Imbatible with 32 artists on stage, 14 musicians live in a tango, rock and roll, and folklore show.
Tangauchos : tango and folklore show, 20 artists on stage, working for 6 years in the ships of Royal Caribbean, during the shows in Argentina and Uruguay.
Chapado a la Antigua : tango show with the orquestra Sexteto Meridional.
Jury
His remarkable talent, technique and recognition in the tango world has granted him positions as jury in several events, such as  jury in the first World Championship Argentinean Tango as well as the Torneo Metropolitano, Torneo Bonaerense and Pre-Cosquin.
El Maestro, Giving back

Despite his busy and successful career as a performer and a choreographer, he is nonetheless completely dedicated to teaching. Recognizing the importance of sharing his accumulated and priceless knowledge, maestro Mariano Galeano maintains a Tango School in Buenos Aires, though he is currently in the process of relocating It to Europe. His commitment to his students is demonstrated by his seminar approach in teaching, dedicating at least one full week at a time to small groups of students to ensure students have enough time to absorb and practice his teachings.
International
Nationally and Internationally, Over the years he has been present in many festivals, exhibitions, classes and seminars in different cities in Argentina, Colombia, Venezuela, Uruguay, USA, Italy, Holland, Belgium, France, Israel, Turkey, Tunis, Cyprus, Greece, Portugal, Lithuania, Slovenia, Sweden, Austria, Russia, Germany, England, Korea, Poland and Iceland.
Last but not least,  he is also a co-organizerl in the charity festivals Tango por los Chicos in 's-Hertogenbosch and in the Biezenmortel festival in Holland.

LINKS TANGO BEACH FESTIVAL & MARATHON 2018